Roger Federer Vs Rafael Nadal Semi-Final: Indian Origin Boy Seen Engrossed in His Book During Wimbledon 2019 Clash of Tennis
July 13, 2019 11:10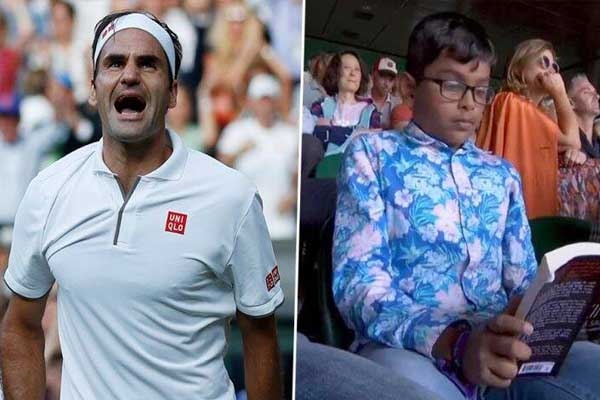 (Image source from: Latestly.com)
During the clash of the great tennis rivals Roger Federer and Rafael Nadal in Wimbledon 2019 semi-final match, a boy of Indian origin in blue floral shirt spotted reading a book and is winning hearts on Twitter as well as inspiring memes galore on social media.

Twitter users could not get their heads around the fact as to how could someone and especially a young boy avoid the charms of a "Fedal" (Federer vs Nadal) clash and be engrossed in a book as funny memes filled the social media platform.

In fact, even the commentators were taken aback at the sight of the boy in blue full sleeves floral shirt absorbed in the book. One of the commentators said jokingly, "Close that book" and remarked how it was not the time to read a book.
Can't believe commentators were giving a kid in the audience flack for reading a book at #Wimbledon - least it wasn't an ipad - kudos to any kid picking up a book these days......#federervsnadal pic.twitter.com/JwM4cnrMNt

— Mark A. Thomson (@MarkAlanThomson) July 13, 2019
2 of if not the greatest players ever and the kid is reading a damn book smh #FedererNadal #Wimbledon pic.twitter.com/0FFosabdFl

— JACK (@Jackariahtjr) July 12, 2019

Swiss great Roger Federer beat arch-rival Rafael Nadal in the semi-final of Wimbledon 2019 in four sets as he beat the Spaniard 7-6(7-3), 1-6, 6-3, 6-4. He will now face defending champion and World No 1 Novak Djokovic in the final of Wimbledon 2019. This will be Federer's 12th appearance in a Wimbledon final match.

By Sowmya Sangam