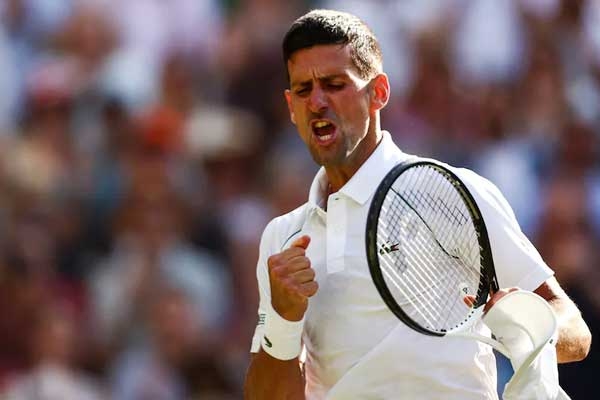 (Image source from: sports.ndtv.com)
Novak Djokovic bagged his seventh Wimbledon title after beating Nick Kyrgios of Australia by 4-6, 6-3, 6-4 and 7-6. The top seed from Serbia won the fourth successive title at All England Club and his total grand slams reached 21. Novak Djokovic won the fourth set and took a lead by 6-1. Novak Djokovic stands next to Rafael Nadal with his 21st grand slam title. Roger Federer is on the top with eight Wimbledon titles till date. Nick Kyrgios played his first-ever grand slam final and he could not withstand before Novak Djokovic. Speaking after the victory, Novak Djokovic lauded Nick Kyrgios and his team. He called their friendship wonderful.
"This will stay as the most special tournament for me. It was my childhood dream to win a trophy. Every year has been more and more meaningful for me. I am blessed and this is the most special court and I am extremely happy for the achievement" told Novak Djokovic. Novak Djokovic stands next to Rafael Nadal with 21 grand slam titles to his name and he crossed Roger Federer. Novak Djokovic also equaled Pete Sampras with seven Wimbledon titles. Four of these seven titles came in consecutive years. 21-11 is now Djokovic's present record in Grand Slam finals and this is the second best in the Open Era after Nadal's record of 22-8. Roger Federer stands in the third place with a record of 20-11.
By Siva Kumar