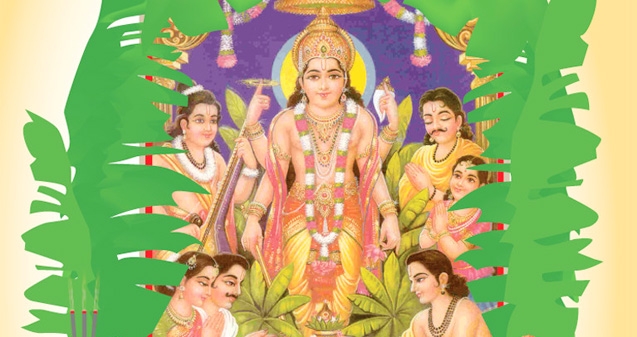 A person observing fast of Satyanarayan gets over the charisma. The fast is the giver of good deeds and merits. And, it is an excellent fast in both worlds, heaven and death. The individual, who observe this fast in a systematic way, gets happiness on earth and receive salvation at the time of death. In this Vrat, other than God Satyanarayan, Lord Ram, Lakshman, Krishna and Ganesha are also worshiped. Hence, the auspicious blessings of all these Gods are acquired by the person.
Materials for Satynarayan Pooja
The materials required for observing Satyanarayan Vrat are as follows:- poles of banana, urn, Panchratan, rice, camphor, incense sticks, garland of flowers, coconut, seasonal fruit, Navedy(kind of Prasadam or offering), Kalawa(auspicious thread), leaves of mango, clothes, rose flowers, small lamps(deepak), basil, pan(betel leaf), Panchamrit(milk, curd, ghee, honey, sugar), saffron, festoon(bandhanwar decoration), post, picture of Lord Satyanarayan.
Procedure of Satyanarayan Poojan
The person observing this fast, should take bath in the evening time of this day. After becoming clean, he should sit at the place of Puja, and first of all establish the post, then place the idol of Lord Satyanarayan at that place. After this, out of all deity, Lord Ganesha is worshiped first. Followed by Goddess Sita- Lord Ram, Radha-Krishan, Mata Lakshmi, Lord Shiva and Bhrama.
Additionally, a resolution is taken, "God Satyanarayan, I am worshiping you with full devotion and faith, Kindly hear my prayer and fulfil my wishes. I offer you water, fruit and other materials, please accept it."
After that, story(katha) of Satyanarayan God is read or heard. After worshiping, Arti is taken of all Gods. Then, Charanamrit(milk, water mixture) is taken and Prasadam is distributed. Later, the Priest(Purohit) is given alms, clothes and meal. After Purohit's meal is over, blessings are taken from them. Now, food should be eaten.
Source : astrobix