(Image source from: Khabaraajkal)
If you are an Indian, you must be thus far aware of rangoli or muggu (in Telugu). Nevertheless, for people who don't know - Rangoli is an art form in which patterns are created on the floor in living rooms or courtyards using materials like colored rice, dry flour, colored sand, sindoor, haldi, flower petals, or other natural colors.
Depending on the local culture, there are different reasons for drawing rangoli.
In general, it is women who draw rangoli needless of any devices such as a ruler, a thread, a brush, etc. to draw them. They freely move their fingers to create various shapes with no difficulty.
Ancient Reasons Why Making Rangoli Is Spiritually Healthy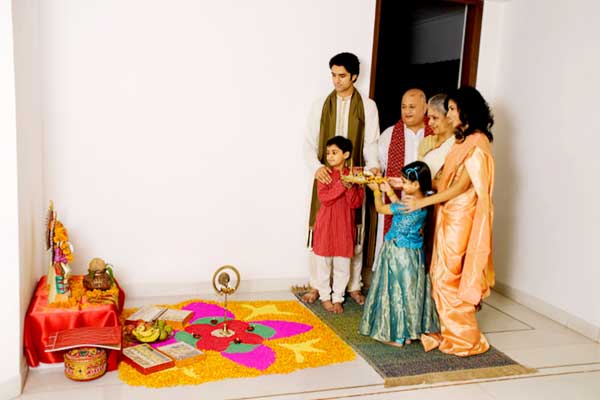 (Image source from: Kayak)
Derived from a Sanskrit word, 'Rangavalli', symbolizing a celebration of colors, is an ancient Indian art, which precedes even paintings and sculptures. It is both an auspicious and a preliminary necessity in any religious ceremony.
In Hindu Dharma, rangoli is drawn during every festival, auspicious occasion, religious rituals, etc. All the festivals, auspicious occasions, rituals, etc. are associated with one of the deity principles.
In the course of these days, the divine principle of a specific deity is existence in the ambiance in a larger proportion on the day of the respective festival or is attracted to the venue where religious rituals of that deity are being carried out.
In order to draw maximum deity principle, rangolis that attract and transmit respective deity principle are drawn so that one and all derive spiritual benefits from it.
According to a Principle in spirituality that 'word, touch, taste, form, smell and their energy co-exist,' even if a small variation is made in the form and color of the rangoli, its vibrations change. The booklet 'Sattvik Rangolis' exemplifies various sattvik designs of rangolis which attract and transmit various Deity Principles such as - Deity Krushna, Deity Rama, Deity Ganesh, et. al.
The primary feature of sattvik rangoli is that due to the transmittance of deity principle, the devotees get various anubhutis (spiritual experiences) of Shakti (Divine Energy), Bhav (spiritual emotion), Chaitanya (Divine Consciousness), Anand (Bliss) and Shanti (Serenity).
How Is Rangoli Executed?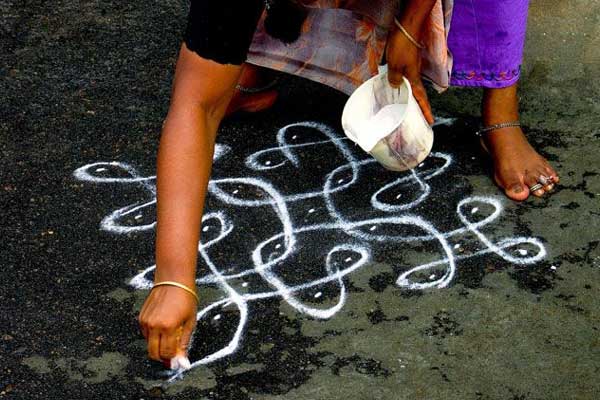 (Image source from: Pinterest)
A pinch of rangoli powder is taken using the index finger and thumb. As the rangoli is a coarse powder of special soft white stone, it can flow freely when at a slow pace released from the pinch of index finger and thumb.
As per knowledge deduced from Palmistry and Yoga, the gentle pressing of the tip of the index finger with the thumb exudes positive energy within the body. Such energy purifies the soul and helps in blood circulation.
Scientific Reason for Drawing Rangoli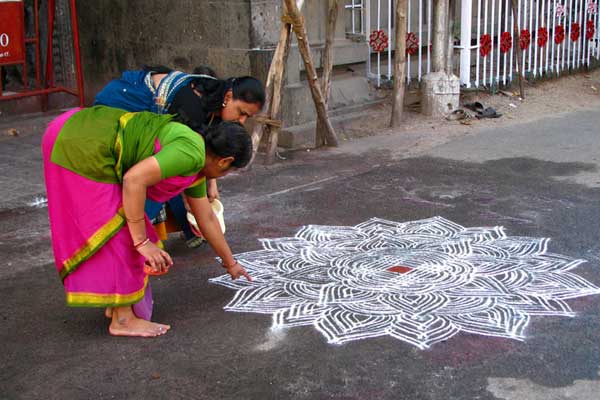 (Image source from: Atlas Obscura)
The reason a Rangoli is drawn at the entrance of a house is because of its calming effect on a visitor who is about to enter the house. It manifests into vibrations (brainwaves) in the visitor's mind, putting them at ease, making them comfortable and happy. Not just shapes, colors also play a role in stimulating the brain.
Like we get pleasing sounds when the right harmonics are combined in the sound waves, that soothe and calm our mind; in the visual domain too, we have corresponding harmonics for every frequency which when combined, leads to artistic patterns that are pleasing to the eye and have a calming effect on the mind.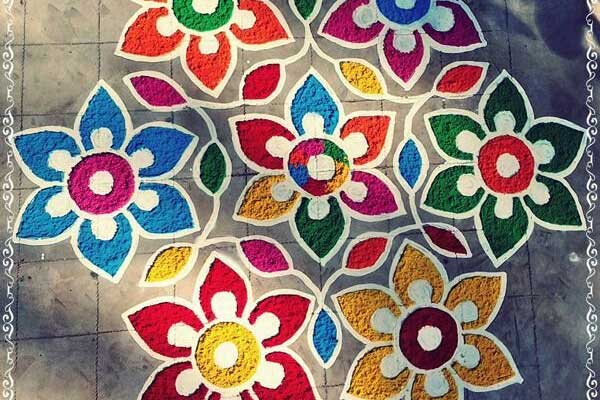 (Image source from: Pinterest)
Most of the rangoli designs maintain symmetry in their designs, that is, left and right side of designs look similar. It is same as yin and yang symbol, or Swastik or Egyptian symbols where symmetry is important. All over the world, in all religions, symmetric designs are a symbol of prosperity, luck, and growth.
The symmetry of the Rangoli also brings undivided attention. It soothes the mind when one is getting into or leaving the house. Rangoli is the science of creating an energy pool in the house.
Every so often Rangolis are symmetric around both X and Y axis, and sometimes have rounded edges and seem to be a combination of several simpler designs superimposed over each other.
Therefore Rangoli is not just an art but in fact, it is a science which was discovered by Indians thousands of years ago and has been a part of the culture since then for religious, aesthetic and scientific purposes.
By Sowmya Sangam