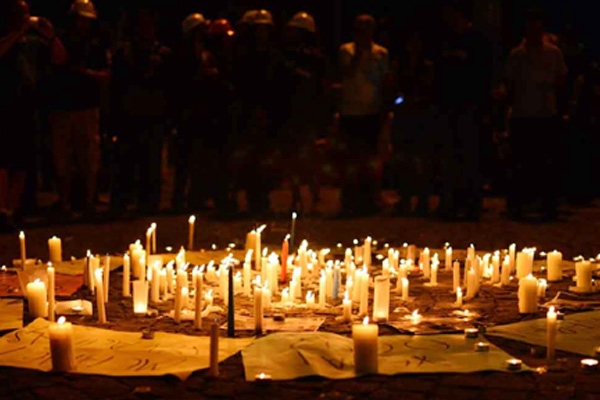 (Image source from: www.dailyexcelsior.com)
Just days after the deadly terror attack in Jammu and Kashmir's Pulwama district, that killed 40 Central Reserve Police Force personnel, the Indian Americans from Chicagoland area have planned to hold a peaceful protest on February 21.
A candlelight protest will be held outside the Pakistan Consulate in Chicago and the protesters will also march to the Chinese consulate.
On February 14, a suicide bomber rammed vehicle loaded with explosive devices into a convoy carrying jawans, claiming the life of 40 CRPF personnel and critically injuring five others. Pakistan-based terror outfit Jaish-e-Mohammed claimed responsibility for the carnage.
J.D. Diganvker, a community activist and former congressional candidate, who is one of the organizers of the protest, said, "The Indian community is deeply pained by this mindless barbaric act. We are grieving for our slain soldiers and at the same time, we want Pakistan to take strict actions against the terrorists. We want the world community to take note. We all know terrorism has no place in the world today and we want the world to urge Pakistan to respond with stringent actions. The protest will be an absolutely peaceful one and we will be giving a memorandum to the Pakistani Embassy."
Diganvker said various Indian American community leaders are joining forces to show a unified front to be a part of this protest.
Aim of Protest
According to organizers, the chief objectives of the protest are to expose the barbaric nature of Pakistani terrorism, to wake up the world against Pakistan- and China-supported terrorism and to call on world powers to take strong actions against such acts.
In the next few days, several events are also being planned across the country and in Chicagoland to express solidarity with the victims of recent attacks and bring attention to Pakistan-sponsored terrorism across the world.
Schedule
On Monday evening, from 6.00 p.m. to 7.00 p.m., there will be a candlelight vigil and peaceful protest at Dan Shanower Memorial in the Naperville suburb of Chicago. On Wednesday, protesters will gather between 11.00 a.m. to 3.00 p.m. at the Indian Consulate General office in Chicago. For the Thursday protest, the organizers would assemble at Chicago Downtown around 11.30 a.m. Anticipating a big response from the community, the organizers have also arranged for bus pick-ups from several locations.
The community leaders said that the incident has really shaken the community and every Indian American wants to do his and her part.
-Sowmya Sangam