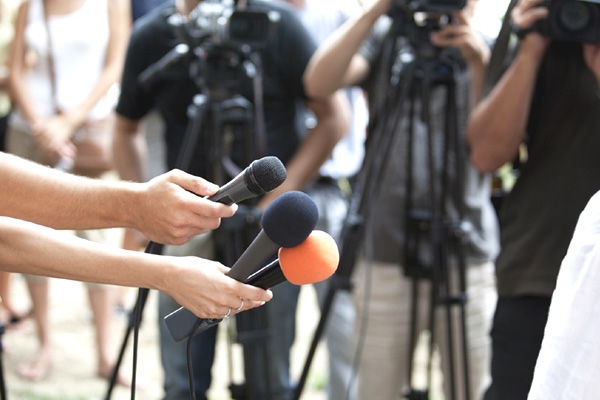 (Image source from: NewsFront)
November 16 is observed as National Press Day to commemorate the initiation of the Press Council of India.
It was established in 1966 to keep a curb on Indian press' standards and that is not influenced or affected by external factors.
National Press Day is believed to showcase the free and responsible press in the country. 
The Press Council organizes various seminars commemorating the day.
Finance Minister Arun Jaitley will kick off the National Press Day celebrations in New Delhi today. The event will likewise be attended by representatives from neighboring Press Councils of SAARC countries - Bangladesh, Nepal, Maldives, and Sri Lanka.
Interim, Twitterati including leaders, politicians, journalists among others has taken to Twitter sending National Press Day wishes.
Greetings to all on #NationalPressDay. Press is the 4th Pillar of Democracy, which ensures that citizens are aware of the happenings and discourses in the country and elsewhere. Let us commit ourselves to use freedom of press responsibly & impartially.

— Manohar Lal (@mlkhattar) November 16, 2018
In 1956, the Press Council of India was formed by the Parliament on the recommendations of the First Press Commission.
#NationalPressDay is celebrated to commemorate the foundation of Press Council of India. The day is symbolic of free and responsible journalism. We stand with journalists and media houses that strive everyday to bring out the truth. pic.twitter.com/VP6Na5ey4A

— Congress (@INCIndia) November 16, 2018
Freedom of the press is a precious privilege that no country can forego.

- Mahatma Gandhi

Speaking Truth to Power is absolutely essential for a vibrant Democracy.

My Best wishes to the Media fraternity on #NationalPressDay pic.twitter.com/LM9rmuMHi3

— Randeep Singh Surjewala (@rssurjewala) November 16, 2018
While appealing for a Press Council, the commission had said that the best way of maintaining professional ethics in journalism would be to bring into existence "a body with statutory authority, of people principally connected with an industry whose duty it would be to arbitrate".
Today on #NationalPressDay, I convey my best wishes to all journalists. A responsible, objective media is one of the most important institutions for nation-building

My greetings to the Press Council of India as well,committed to maintaining ethics & high standards in print media

— Rajyavardhan Rathore (@Ra_THORe) November 16, 2018
"Pen is mighter then sword"
On the occasion of #NationalPressDay best wishes to all media persons. I salute their contributions towards our society. pic.twitter.com/1UrS8Yszk7

— Harsh Sanghavi (@sanghaviharsh) November 16, 2018
National Press Day has been witnessing seminars since the year 1997.
The Press Council of India was first constituted on July 4, 1966, as an autonomous, statutory, quasi-judicial body, with Justice J R Mudholkar, then a Judge of the Supreme Court, as Chairman.
Greetings on the occasion of #NationalPressDay. Let us pledge this day that we shall endevour to keep the media always free and fair.
May this fourth pillar of our democracy continue to inform, enlighten and offer a critique to our society and polity.

— Ashok Gehlot (@ashokgehlot51) November 16, 2018
Press Council of India Chairman CK Prasad on Thursday said that the winners of the National Awards for Excellence in Journalism will be honored at the event held on Friday.
Chairman and journalist of the Hindu Publishing Group, N Ram has been selected for the category of Raja Ram Mohan Roy award. Ruby Sarkar, Chief Correspondent of Deshbandhu, Bhopal and Rajesh Joshte of Daily Pudhari in Ratnagiri will share the award in the category of Rural Journalism category.
The selection was conducted by a jury consisting of senior editors, and working journalists, among others.
By Sowmya