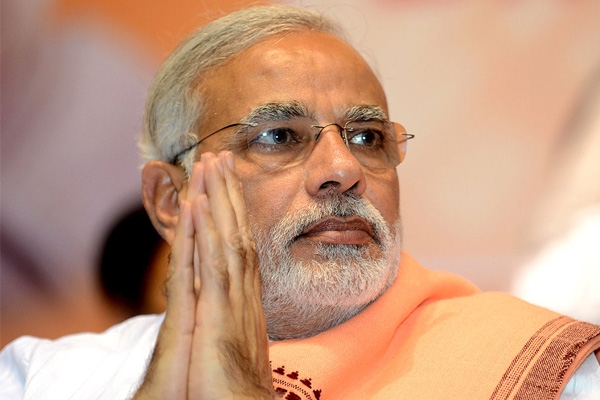 (Image source from: Real Thanks to 'Seva Parmo Dharma' )
It is an inevitable truth that India extended a greater support to the earthquake hitten neighbor Napel in all dimensions to ensure quicker relief and rehabilitation. Indian Prime Minister has lauded one and all, who is seriously helping the Nepali friends without selfism. Today he took his twitter handler to appreciate the youth, media, governments, NDRF staff, Indian military, and other organs of India that are helping the Nepalese to recover soon.
He reiterated that Indian culture always strives for the well being of the needy, by saying "real thanks should be to our great culture, which teaches us 'Seva Parmo Dharma'." He earlier said in a speech "Sarva Mangala Mangalya and Sarve Bavanthu Sukinah:", means Indians philosophy is wishing good of all.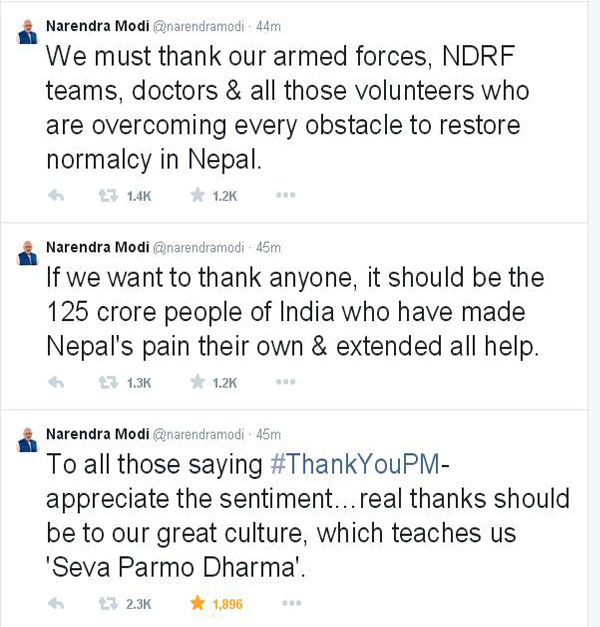 His others tweets regarding the subject include, "We owe a big thanks to the enthusiastic youngsters who are mobilising contributions for relief work be it cash, resources & medicines etc." for praising the youngsters.
His tweet on media contribution, says, "Mention must be made of the media. They are bravely covering the disaster from the ground. Thanks!"
He saluted the courageous persons from both India and Calamity stricken Nepal, by tweeting, "And above all, we salute the resilience of our sisters & brothers in Nepal & parts of India, for their courage in the face of disaster."
The telecom networks like Bharati Airtel, Vodafone, and others have reduced the tariffs to Nepal for ensuring communication bridge. Samaj Wadi supremo Mulayam Singh Yadav urged MPs to contribute one month salary for donating, Online call app Viber has zeroed the rate by providing Viber out call free to Nepal.
-Kannamsai