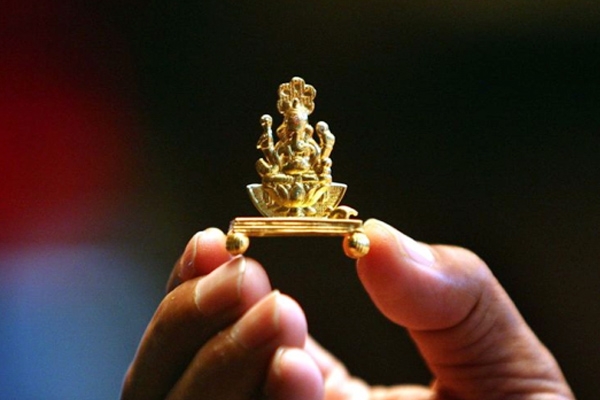 (Image source from: Swarajya)
The Indian authorities will now allow a conditional export of gold idols made between eight and twenty-four carats, according to a notification released by the Union Ministry for Commerce & Industry.
'Caratage' measures the purity of gold alloyed with metals. While 24 carat is undulated gold with no addition of other metals, 18 carat has 75 percent gold along with 25 percent other metals, often copper or silver.
Directorate General of Foreign Trade (DGFT) stated in a notification that foreign trade policy has been amended "to allow export of gold idols (only gods and goddess) of 8 carats and above (up to 24 carats) from domestic tariff area."
Currently, China is the world's largest exporter of gold idols, and the country also has a significant share in the market for idols of Indian deities.
The demand for such idols is high among NRIs (Non-Resident Indians).
"Now, exporters will start marketing Indian-made idols. We see an immediate 100-kg annual export market opening up. This can be eventually expanded to 500 kg a year," said Srinivasan Krishnan, convenor, Gem & Jewellery Export Promotion Council (GJEPC).
It should be noted that India is the largest importer of gold in the world, buying about 700-800 tonnes of gold from various countries every year.
-Sowmya Sangam