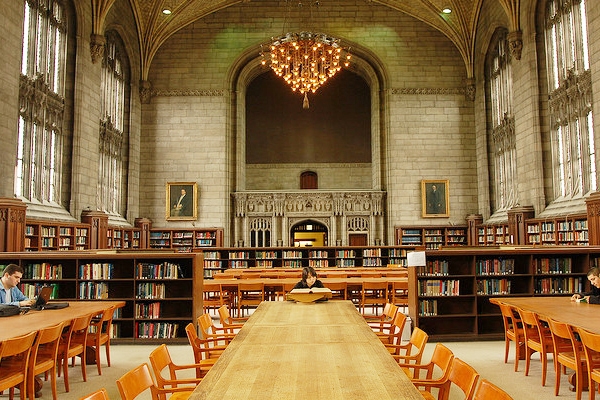 (Image source from: Indian-American couple gifts $3.5 million to Chicago University for Sanskrit studies})
An Indian-American couple gifts $3.5 million to the University of Chicago for Sanskrit studies. The amount donated by the Indian-American couple helps the University to establish a professorship in Sanskrit studies and to help to enhance its Indian subcontinent's study.
According to the University of Chicago, Guru and Anupama Ramakrishnan donated $3.5 million amounts to the university to set up a 'Anupama and Guru Ramakrishnan Professorship' in the study of Sanskrit language. The Professorship supports a faculty member whose work focuses on the ancient classical language.
Martha T Roth, the dean of Humanities, said that, "the University of Chicago is world renowned for its excellence in the scholarship of South Asia."
Roth added that, "Guru and Anupama Ramakrishnan's generosity allow us to sustain that tradition and makes possible continued rigorous study of the cultural heritage of South Asia through its literary, religious and philosophical texts."
The statement said that,  Gary Tubb will be the first scholar to hold the position in the university. Gary Tubb serves as the faculty director of the University of Chicago Centre in Delhi and professor in South Asian Languages and Civilizations.
"We are delighted to fund this chair in Sanskrit - one of the oldest languages that has given the world the Vedas, Upanishads and other exceptional works of spirituality, poetry, music and dance," the Ramakrishnans said.
"The University of Chicago's long-term commitment to scholarship in Sanskrit made it our institution of choice to partner with on this important initiative," the couple, which also supports a scholarship programme for Indian students at Chicago Booth, Ramakrishnans added.
The University has initiated a campaign 'Inquiry and Impact'. The campaign aims to raise USD 4.5 billion and engage 125,000 alumni by 2019.
The gift of $3.5 million by Indian-American couple is a part of this campaign. Till now, the amount of USD 2.82 billion has been raised and over 59,000 alumni has engaged with the university.The university offers the study of Sanskrit language since 1892. Sanskrit is the oldest literary language of the South Asia.
According to Gary Tubb, first scholar, "Sanskrit really stands out among the world's languages alongside other classical languages, as being a single language that provides access to an extraordinarily broad range of texts and histories."
Nandini