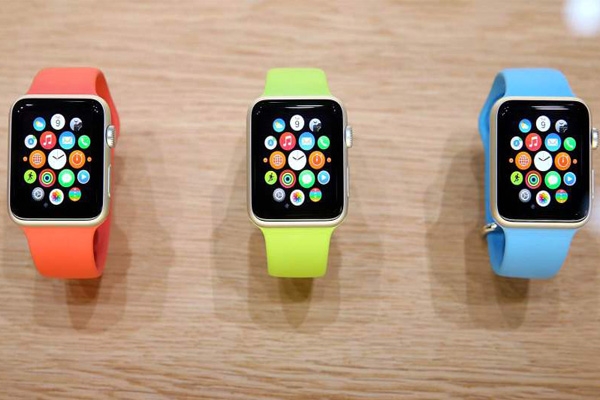 (Image source from: Apple Watch sale to exceed availability at launch)
Consumers in Australia flocked to Apple Inc's store in Sydney on Friday to get the world's first up-close look at the tech giant's smart-watch. The Apple Watch, CEO Tim Cook's first new major product, was available for pre-order online and to try out in stores - but not to take home. On April 24, consumers will be able to buy it online or by reservation at high-end fashion boutiques in Paris, London and Tokyo. This is the part of Apple's strategy of positioning the wearable computer as a must-have accessory. Apple Watch starts at $349 and the standard version comes in at $549 in the US. High-end "Edition" watches with 18-karat gold alloys are priced from $10,000 and go as high as $17,000.
Alexander Bock, a backpacker from Germany, stood outside the shop's towering glass facade. "I feel naked without a watch. I think I will buy the Apple watch with the sports band. I'm working very hard right now so I can buy this watch," Bock told. "I actually tried it on briefly, and it's so light it doesn't feel like it's on my wrist," 26-year-old salesman Yosuke Hosoi told.
Apple expects demand for the watch, which allows users to check email, listen to music and make phone calls when paired with an iPhone, to exceed availability at launch. Apple's watch is widely expected to outsell those by Samsung, Sony Corp and Fitbit that have attracted modest interest from consumers. Sales estimates for 2015 vary widely. Piper Jaffray predicts 8 million units and Global Securities Research forecasts 40 million.
"The days of waiting in line and crossing fingers for a product are over for our customers," retail chief Angela Ahrendts. "This is a significant change in mindset, and we need your help to make it happen. Tell your customers we have more availability online and show them how easy it is to order."
Experts said Apple's offering was unlikely to displace the market share of luxury-brand watch makers. "This is just Apple's interpretation of the watch, I don't think watch makers should be worried at all," Stephen Fenech, editor of the Tech Guide website, told. "This is just Apple's expression where they've combined what they are good at with the fact that it's a watch with style so I think there's going to be room for everyone."
By Premji