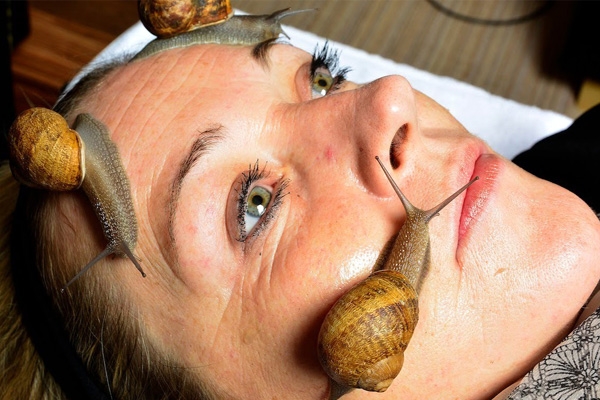 (Image source from: Treatment of face by snail})
Wrinkles are the slight folds or ridges on the skin. Most common wrinkle is the one that appears at old age. However with time, many other factors have also been considered as cause of wrinkles. Sun damage, dehydration, smoking and some medication are some the factors that cause wrinkles to develop.
They are inevitable part of the natural aging process. The skin gets thinner, dried and less elastic. Still you want to look vibrant and youthful even at old age.
For this, you spend lot on cosmetic products which can be harmful for your skin.
Here's a new 'snail crawling' therapy!
It may sound weird, but it is a believed to be a natural way of making your look more attractive.
A new revolution to keep one young and pretty has been introduced. This involves letting live snails to crawl on the face for 60-minutes.
This treatment has been launched by Japanese Salon (Clinical Salon, Tokyo). It is believed the mucus of a snail contains mixture of powerful proteins, antioxidants and hydraulic acid.
These are said to restore the moisture, soothe inflammation and remove dead skin.
- Smrutirekha