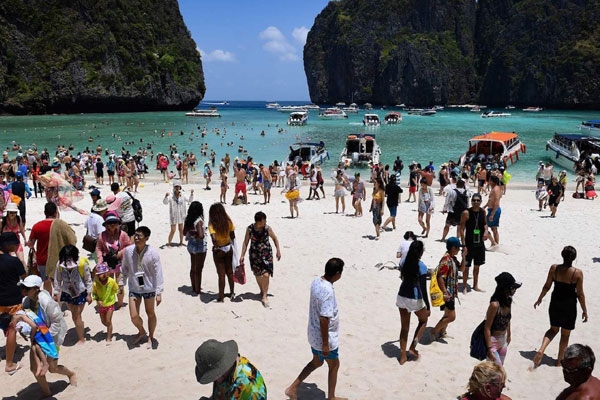 (Image source from: cdn.cnn.com)
Good news for travelers! People who want to spend their upcoming winter holidays in Thailand are now welcome to the country.
Hope is on the horizon for travelers wanting to spend their winter holidays in Thailand. The Thailand's minister of Tourism has issued certain guidelines for the international travelers entering the country.
The foreign tourists can enter Thailand through a program called 'Safe and Sealed' from October 1.
Here are the guidelines:
In the beginning, the tourists will be permitted to fly to Phuket, Thailand's largest island. After entering the island, the tourists will have to stay under quarantine for 14 days.
Special one kilometer zones would be set up at Patong Beach allowing the foreign tourists to spend some time on the beach.
Travelers will need to get tested for COVID-19 at the beginning and end of their quarantine period.
If they test negative, they will be free to travel on the island.
Tourists who wish to travel beyond Phuket will have to stay in quarantine for an additional 7 days.
They will have to undergo a third COVID-19 test after the 21 days of the quarantine period.
Hotel staff who work in these designated zones will not be permitted to leave without first going to quarantine and will be tested regularly for COVID-19 to prevent the spread of the virus.
The travel plan has been approved by the government and the next step involves holding a public hearing to get the approval from the local residents. This is expected to take place in September.
Like several other countries that are heavily hit by tourism, Thailand has also suffered the worst as the country's tourism contributes to 15% of its GDP.
All the international and commercial flights have been banned owing to the pandemic except the repatriation flights to and from Thailand.
For now, domestic flights are allowed but the lack of transport and tourism in areas like Phuket has been devastating to the economy of Thailand.
Hotel authorities of Phuket have welcomed the move by Thailand government to reopen the tourism in the place and several of them said that it is a positive step for the revival of the economy.
They also said that once the winter sets on, the snowbirds from the European Union fly towards Phuket giving the spectators a picturesque view for the tourists.
Barnet, an owner of a famous hotel in the Phuket of Thailand said that reopening the place in winters is a rational step.
Moreover, Thailand has already reopened beach resorts for the domestic tourists recently.
By Gayatri Yellayi