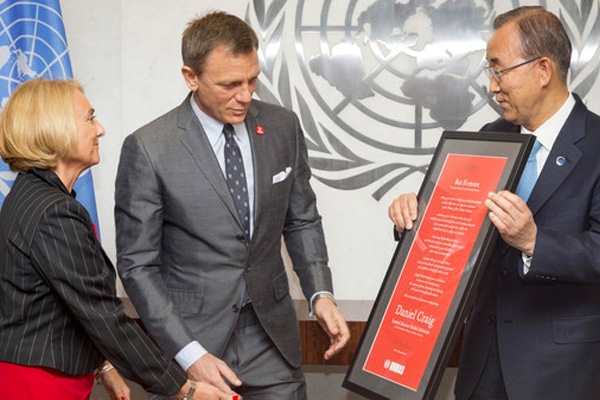 (Image source from: James Bond became U.N. Global Advocate!})
Hollywood superstar Daniel Craig became the first U.N. Global Advocate for the Elimination of Mines and Explosive Hazards on Tuesday. Secretary-General Ban Ki-moon appointed James Bond star for this mission of saving earth, and he thanked Craig for his commitment to support the United Nations' vision of making world free of land mines and explosive remnants of war.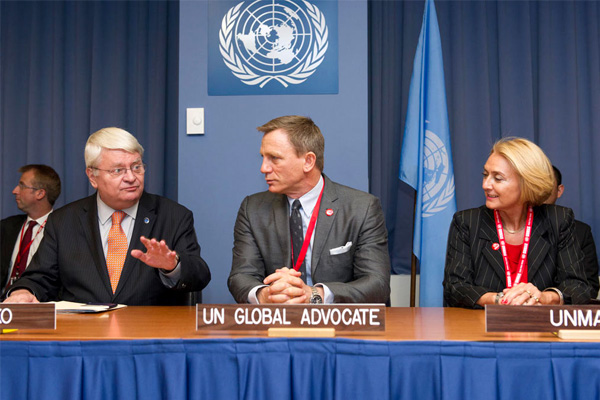 "Along with moviegoers worldwide, I have been on the edge of my seat watching Mr. Craig, as James Bond, defuse ticking time-bombs with seconds to spare," the secretary-general said. "I am even more excited that Mr. Craig has agreed to use his star power to draw attention to the noble causes of mine destruction and mine awareness."
Craig will have to serve in the designation for three years and it is one the events organized to observe the 10th anniversary of the International Day for Mine Awareness and Assistance in Mine Action.
Craig has put efforts in making the world free of mines and raising political and financial support in this aspect.
Image Credits: Al Arabiya/UN
-Kannamsai