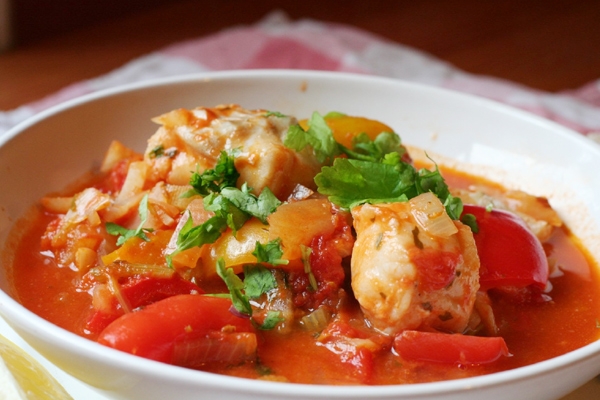 (Image source from: Mediterranean Fish Soup recipe})
Mediterranean Fish Soup recipe is a versatile recipe and you can use whatever fish you like for your perfect fish stew. It is a Mediterranean-style seafood soup recipe.
Ingredient required Mediterranean Fish Soup
Onion: 1 Chopped
Green bell pepper: ½ Chopped
Garlic: 2 cloves minced
Tomatoes: 1
Chicken broth: 2 cans
Tomato sauce: 1 can
Canned mushrooms: 2 1/2 ounces
Sliced black olives: 1/4 cup
Orange juice: 1/2 cup
Dry white wine: 1/2 cup
Bay leaves: 2
Dried basil: 1 teaspoon
Fennel seed, crushed: 1/4 teaspoon
Ground black pepper: 1/8 teaspoon
medium shrimp: 1 pound, peeled and deveined
cod fillets: 1 pound
How to make Mediterranean Fish Soup
•Place onion, garlic, tomatoes, green bell pepper, tomato sauce, chicken broth mushrooms, olives, wine, bay leaves, orange juice, dried basil, pepper, and fennel seeds into a slow cooker.
•Cover, and cook on low for nearly 4 1/2 hours or until vegetables turn crisp and tender.
•Stir in shrimp and cod.
•Cover. Cook 15 to 30 minutes, or until shrimp are opaque.
•Remove and discard bay leaves.
•Serve hot.
-Sumana