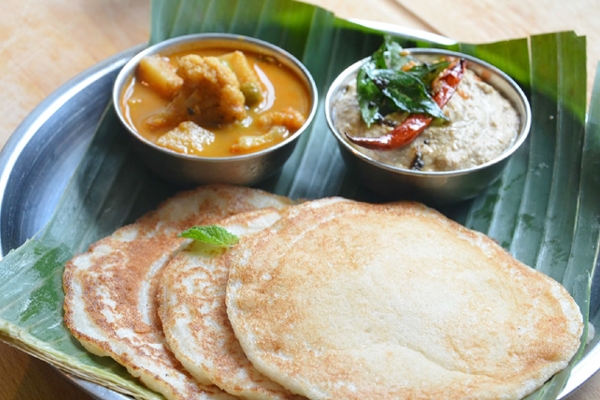 (Image source from: How to make set dosa recipe})
Here is the recipe of soft, spongy set dosa. They are very soft, light and spongy. Top the dosa with some grated carrots, beetroots, chopped onions and green chilies for more flavors. Serve set dosa with coconut chutney, vegetable korma, sambar.
Ingredients (measuring cup used, 1 cup = 250 ml)
idli dosa rice: 1 cup
thick poha: ½ cup
urad dal: 2 tbsp
methi seeds: 7 to 8
water for soaking: 1.5 cups
strained water for grinding: ¾ cup
sugar: ¼ tsp
salt: ½ tsp
baking soda: ¼ tsp
oil as required
Method of preparation
Soaking: Rinse rice, urad dal, 7 to 8 fenugreek seeds and drain. Rinse poha twice and drain water. Add all thse in a container and add water. Soak for 5 to 6 hours. Later, drain water well. Keep strained water aside to use for grinding.
Grinding and fermentation:
Grind the soaked ingredients adding water. The consistency should be like that of idli batter. Add sugar and mix well. Cover the container with lid. Allow the batter to ferment for at least 8 to 9 hours.
Later add salt and baking soda. Mix well. Add little water if the batter looks thick.
Prepare dosa:
Heat a tawa and spread some oil in the center. Spread the dosa batter on the pan in a circular motion.
Regulate the flame as per the requirement, turn dosa to other side. Dizzle little oil on both the sides. After the dosa gets crisp, serve hot.
-Sumana