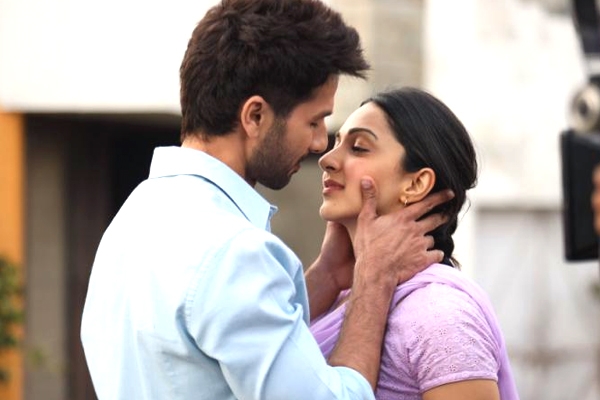 (Image source from: News18.com)
The much-awaited Shahid Kapoor and Kiara Advani's Kabir Singh, the remake of Tollywood cult film Arjun Reddy, has finally hit the screens on June 21and reactions have started making their way into social media platforms already.
While netizens are insanely speaking highly of Shahid's performance, most critics feel that Kabir Singh is an exact replica of the Telugu original Arjun Reddy and has nothing new to offer.
Helmed by Sandeep Vanga (who also directed the original film in the regional language), Kabir Singh is an adaptation of Telugu blockbuster Arjun Reddy. Bankrolled by T Series and Cine1 Studios, the film revolves around a hot-headed surgeon, who goes on a path of self-destruction after the love of his life marries someone else.
Critics About the Film   
Times of India (3.5/5): The film's conflicts in the second half start becoming repetitive. The pace of the film becomes an issue with a runtime that is undeniably long. Thankfully, the realism and build up to Kabir's deterioration is well executed. Writer-director Sandeep Vanga Reddy, who also helmed the Telugu original, makes his hero vulnerable but not weak enough to feel sorry for. The remake stays mostly true to the original. However, the original had better chemistry between the lead actors, hence the love story seemed more effective. Film's music compliments the narrative with its soulful renditions in the background.
NDTV (1.5/5): Every shot, every scene, every camera angle and every line from Arjun Reddy is replicated in Kabir Singh, leaving one wondering why the director felt the need to mount a separate Hindi version in the first place. The film has nothing new to offer except for the fact that the Mangalore/Hyderabad setting of the original makes way for Delhi and Mumbai, with neither of the two places showing up on the screen in any significant manner as action-defining cityscapes.
Mumbai Mirror: Director Sandeep Reddy Vanga barely alters his original script to localize this Telugu import. While most lines seem verbatim translations, some of the rages seem to have been diluted for a more universal appeal. In any case, snipping off 40 minutes from the runtime would've surely helped.
India Today (1.5/5): Kabir Singh spends 120 minutes of its 154 in showing Kabir either drinking or drunk or snorting cocaine or needling in morphine or fighting with people or, slapping his girlfriend or screaming at her. Or making out. In the remaining 24 minutes, his repentance is done with, and we all go home with a happy ending. If you think it is okay if you think it is justified because 'movie hai yaar, it's not real life', you are part of the problem. Misogyny is not cool. Neither is Kabir Singh.
The Hindu: Having watched and balked at Arjun Reddy for its celebration of a misogynistic, infantile bully of a hero, Kabir Singh felt like a doubly suffocating experience. One that makes you feel violated. There is barely any nuance, no credibility when it comes to the love affair itself.
By Sowmya Sangam