Sanam Teri Kasam Movie Review
Rating:

Director:

Radhika Rao, Vinay Sapru

Cast:

Harshvardhan Rane, Mawra Hocane

Banner:

Jhoom Jhoom Productions, Soham Rockstar Productions

Producer:

Deepak Mukut

Music:

Himesh Reshammiya

Release Dt :

Feb, 05 2016
Story
Sanam Teri Kasam is the story of Inder Lal Parihar (Harshavardhan Rane) and Sarawati Parthasarathi aka Saru (Mowra Hocane). Inder, a lawyer by profession happens to meet a traditional girl Saru (Mowra Hocane) who is cultural and well grown. Her father dreams of bringing her an extremely talented guy from IIT or IIM. Saru gets rejected by many guys because of her looks that look completely old fashioned. It is during this time she makes a complete change over and a sudden shock alters the situations of her family. The rest of the film is how Inder and Saru struggle out to solve their problems and end up winning their love. Watch Sanam Teri Kasam to know about the rest.
Analysis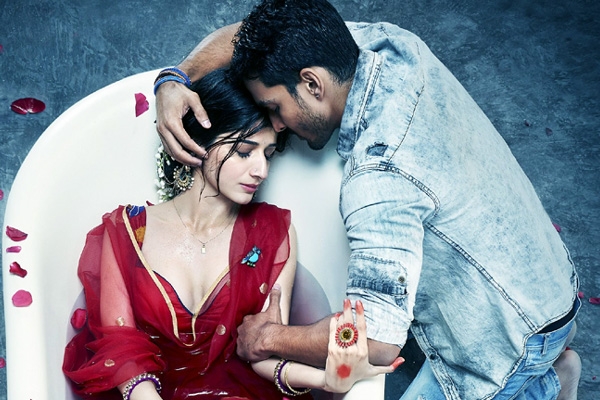 The first half of Sanam Teri Kasam has been decent throughout and the movie takes us to a different world having just love and emotions. The songs and the music have been melodious that they elevate the film well. The emotional episodes bring a huge impact on the audience though they are low and limited. The interval episodes have been heart touching and on the whole the complete first half of Sanam Teri Kasam has been extremely enjoyable.
The second half which is the key for the film suffers proper narration. The major plot gets deviated and the huge dose of emotional drama kills the flavour built up during the first half. Though the lead actors impress with their performances, the second half of Sanam Teri Kasam tests the patience of the audience completely. The climax has been simple and predictable. On the whole Sanam Teri Kasam suffers lag at the right and crucial point in the film.
Performance
Harshavardhan Rane had an impressive career in South and he is a known face. He has been decent with his first Bollywood assignment. His character has been well written and he has done a decent job with his performance. Mowra Hocane is the major highlight of the movie. Her complete traditional attire and stylish makeover will leave everyone in shock and she has been extremely impressive with her performance. Manish Choudary, Murali Sharma, Pyumori Mehta, Rushad Rana and Divyetta have done justice for their assignments. All the other actors have been apt.
The story of the film is completely predictable and old. The screenplay and the dialogues during the first half have been extremely satisfactory but the second half fails to make much impact because of the screenplay that has not been taken enough care of. The music and the background score have been melodious and elevated the film well. The cinematography has been eye catchy. The production values have been lavish throughout the film. The directors could not come up with an engaging second half and the film falls flat at the most needed moment.
Final Word
Sanam Teri Kasam is a letdown because of the second half which has been dragged much and deviated. Harshavardhan Rane and Mawra Hocane at their best.
Stills from this movie
Videos & Trailers